April 26th - April 29th, 2018
The Longines Masters Series at NYCB Live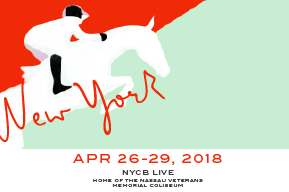 Enjoy a very special evening of elegant equestrian competition and help Old Field Farm at the same time. Purchase your tickets for this event using the links below.
About this event: The Longines Masters of New York, which will ride into New York April 26-29, 2018. The unique four-day event will combine the world's best indoor show jumping with a luxury lifestyle experience, offering spectators unparalleled first-class sport, live music, one-of-a-kind artwork, delectable cuisine, and more. One of the most prestigious international equestrian competitions, the Longines Masters Series spreads the glitz and glamour from its origin city of Paris around the world as it has expanded into three of the world's most luxurious, bustling cities: Paris, Hong Kong, and now, New York.
Throughout the weekend, over 50,000 fans are expected to visit NYCB Live, home of the Veterans Memorial Nassau Coliseum. Top-ranked athletes such as Olympic medalists McLain Ward, Lucy Davis, Laura Kraut, Beezie Madden, and world #1 Kent Farrington plan to join local New York equestrians Georgina Bloomberg, Brianne Goutal, Jessica Springsteen, Karen Polle, and more to showcase the speed, agility, and heart-pounding action of international show jumping.
Whether you are enjoying the competition ringside from the prestigious Masters Club dining on menus curated by a celebrity chef or cheering from the grand stand with thousands of screaming fans, the Longines Masters of New York rides into town in April with something for everyone.
Your ticket purchase will benefit Old Field Farm by using the following codes and links below:
Old Field Farm
Promo code: RESTORE
Tickets Here
Long Island Horse Shows
Promo Code: LIHS
Tickets Here